I have been pushing for the last couple of weeks to finish this. I put everything but smalls and some other quick crafting projects to the side. It finally paid off! All links are clickable.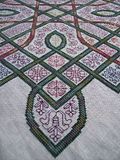 This is stitched on 28ct Cashel Linen in Fairydust with the recommended Carrie's Creations threads.
CdCx will be my next focus piece although I may flitter around a bit again. I am just not a one at a time type girl. It also means that I have an extra project bag that is empty! You know what that means?? New start!! Woohoo!